Melissa Castignoli earned a Bachelor of Fine Arts degree from the Fashion Institute of Technology where she studied painting and drawing. She later studied Art Education at CUNY Lehman College with a focus on printmaking.
She has taught art at Preston High School with a focus on painting, drawing, and ceramics.
She believes art lessons should not be designed solely to impart the knowledge of the teacher or a specific technique, but to allow students to think creatively and experience the life of an artist.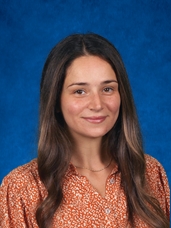 Melissa Castignoli
Chairperson
Phone: x 695
Groups: F&T Arts Dept
Employed Since: 9/1/2014
6 Years Experience At School
Degrees
BFA

Fashion Institute of Technology

(2011)

MA

Lehman College

(2018)