Welcome to the Preston High School Theology Department: the home for your mind and your spirit! The spiritual and academic goals of our department are complementary and mutually enriching. The underlying principle of all our courses is to give reasons for our faith and to give faith to our reason. While, in fact, each course is academic in focus, the reflective and spiritual integration in each student is strongly emphasized. Her religious heritage and practice, as well as the application of moral and religious principles in contemporary society are encouraged and nourished through course work and co-curricular requirements for retreats, service and liturgical celebrations. Particular emphasis is placed on ecumenical and inter-religious dialogue to promote peace and understanding and help the students to become active participants in building a more united world! In recognizing the uniqueness of each student and her responsibility to contribute to both the PHS and global community we encourage her active participation in developing her own faith, thus discovering or re-discovering her own religious tradition.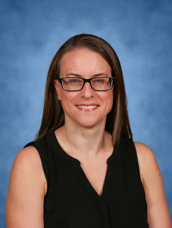 Dora Dekajlo
Chairperson
Employed Since: 8/31/2002 21 Years Experience At School
Degrees
BA

Fordham University

(2000)

MA

Fordham University

(2002)
Mrs. Dekajlo became fascinated with the study of Theology when she was an undergrad student in Forham University. At Fordham College at Lincoln Center, she earned a B.A. in Religious Studies. A Hebrew Scriptures professor inspired her to continue to do graduate work, and she got her M.A. in Old Testament Theology from the Fordham Graduate School of Arts & Sciences.
Mrs. Dekajlo started teaching at Preston in 2002. Of all the courses she could teach, she is happiest when she teaches the Bible! Currently, Mrs. Dekajlo teaches Sophomore Theology, Pax Christi, oversees the Christian Service Program, and is the moderator of the Compassion Connection community outreach club.
Mrs. Dekajlo loves the fact that Preston is constantly living out its mission of compassion. She enjoys sharing about all of the projects that keep happening in this school so much that she oversees the Preston Compassion Blog on this website.
Compassion Matters... Pass It On!
Ilze King
Teacher
Employed Since: 9/1/2005 18 Years Experience At School
Degrees
BA

Daugavpild Pedagogical University, Latvia

(1998)

MA

Fordham University

(1999)

PhD

Fordham University

(2010)
Dr. Ilze King earned her MA and PhD in Religion and Education at Fordham University.
She has taught at Preston for the last 12 years, grades 10 to 12. She has taught New Testament, The World's Religions, Becoming a Woman of Mature Faith, and Psychology and Faith. She presently teaches the junior theology Christian Morality and Catholic Social Teachings course, as well as senior theology, The World's Religions.
Dr. King has a long and abiding interest in Catholic social teachings and social justice, as well as women's experience in the Catholic tradition. She strives to assist her students to become more aware of themselves connecting to their inner center and light. She encourages her students to explore and own the best that the Catholic tradition can offer and to expand in their perspective about ways they can share their inner light with their family, friends and wider community.