Tuition Rates & Policy
As a privately-owned and operated ministry of the Sisters of the Divine Compassion, Preston High School's mission is to provide a rigorous and superior college preparatory education at the center of a student's personal, social, and spiritual growth. Tuition revenue accounts for approximately 90% of our regular activities, and we therefore rely critically on the timely collection of tuition in order to maintain the campus and pay our faculty and staff. It is therefore important that you honor your contractual tuition obligation in accordance with our tuition policies and due dates.
2023-24 Tuition & Fees
All fees, except the general which is pro-rated, are non-refundable. At time of withdrawal or dismissal from the School, any tuition refund due will be calculated as the excess number of months, or fraction thereof, paid and prorated over the academic year (10 months). Any outstanding tuition and fees at withdrawal or dismissal will be calculated and is due on or before the exit interview and release of final transcripts.
Tuition fee is $11,995 per year payable in 12 month installments or see payment plans below.
The General Fee of $1,000 includes classroom technology & equipment, library acquisitions, administrative / testing / instructional materials, technology leasing, student handbook & planner, grade-level retreats, and development fund fee. This does not include the cost of books, uniforms, and some course- (e.g., science labs, electives) and grade- (e.g., senior luncheon, prom) specific fees, which are additional.
The Graduation Fee of $425 includes the cost of cap and gown, graduation medals and awards, engraving, Class Night, Baccalaureate Mass and reception, graduation program printing, invitations, chair rental, and other related expenses.
The Senior Luncheon of $100 is a prelude to the Senior Prom and provided by the School at the Marina del Rey in December during School hours. Since the school must reserve the venue a year in advance, attendance is strongly encouraged and the fee is not refundable if the student chooses not to attend.
A separate $100 Registration Fee is due on or before the initial registration at the School and $250 re-registration fee each January thereafter (except Senior year) that the student is enrolled at Preston for her next year advisement and course selections.
Tuition Payments

As a condition of enrollment and good standing, each student's financially responsible party (the "Customer") is required to have an active online tuition account with FACTS (Preston's tuition management provider), accessed through your FACTS Customer Online account. Since the School invoices tuition, fees, and most incidental expenses through FACTS, it is the responsibility of the Customer to login and review these charges on a regular basis.
FACTS charges the School an annual administrative fee to create and manage your tuition account. A recharge of $85 per student appears on your FACTS account as a School Payment Plan Fee due in full by June 1, 2023.
Tuition and fees are due on the first day of each month, with a 5-day courtesy period, after which a late fee of $50 will be charged on any outstanding balance of $50 or more. Each Customer can request one (1) courtesy late fee waiver per academic year, if tuition and fees will be made current at the time of request. No additional waivers will be granted under any circumstances.
All payments must be made through FACTS. Please do not make any in-school payments.
Invoice Plans (Exception Only) and Invoice Plan Surcharge
Preston requires each family to maintain a valid U.S. bank account or major debit / credit card for automatic tuition payments (Auto Pay). If you do not have, or cannot provide, either form of payment, then the School, at its sole discretion, may create an Invoice Plan for your tuition payments. All FACTS Invoice Plans are assessed an annual fee of $100, due in full by June 1, 2023. The School will require an immediate conversion to Auto-Pay for your failure in making timely payments.
Payment Plan Options
For your convenience, we offer five (5) payment plans: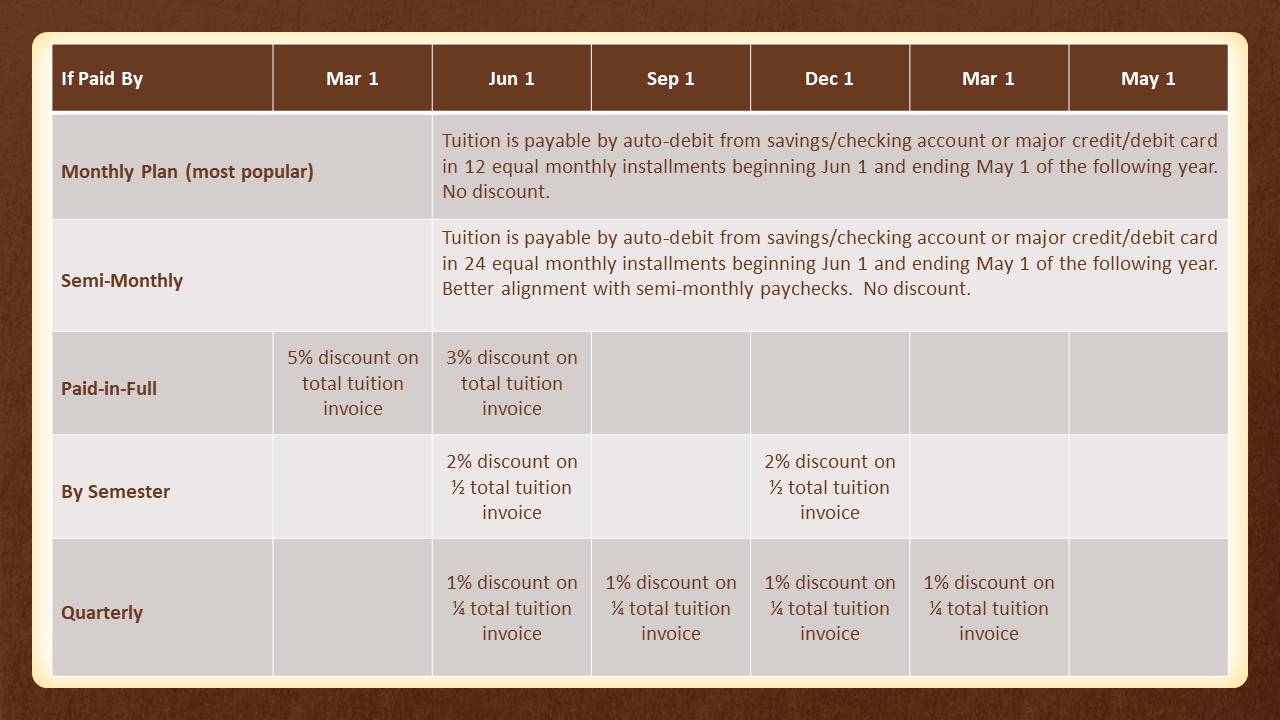 The early payment discount ("EPD") does not apply to full academic scholarships since the tuition portion is covered by the school. EPD is also inapplicable to SSP tuition, since the family's portion is determined by the Student Sponsor Partners program and not the School.
Sample calculations of the early payment discount follow: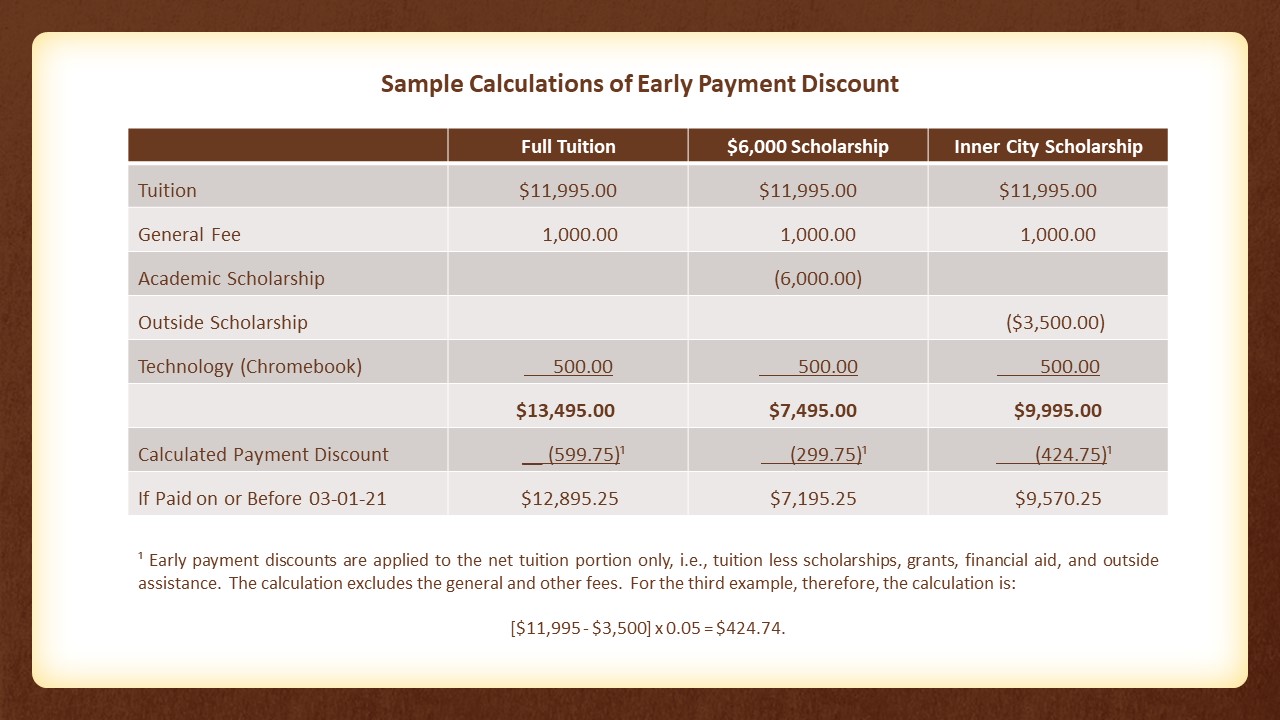 When you are ready to pay a paid-in-full, semi-annual, or quarterly tuition, kindly contact Ms. Mooney at cmooney@prestonhs.org or Ms. Traina at ptraina@prestonhs.org so that we can verify and post your discount to your FACTS account before payment is taken. If you fail to advise us in advance, the discount will not be applied automatically. You must then still contact us, and we will apply the discount to incidental expenses you will incur later in the School year, but we cannot issue refunds of credit balances, which are carried forward to the next school year and refunded at withdrawal or graduation. Ordinarily, credit balances arising from failure to contact us before early payment is withdrawn are used within the same school year.
If you have selected the paid-in-full, semi-annual, or quarterly plan, but fail to make the timely payment, your plan will be converted to the monthly without the early payment discount.
Delinquencies
Preston defines delinquency as greater than one (1) month's tuition outstanding. For continued delinquency, Preston reserves the right to withhold interim, quarterly, and final grade reports, diplomas, and official transcripts until all outstanding tuition and fees are paid in full. If arrears incurred during the Fall semester are not paid before the start of the Spring semester, we reserve the right to dismiss the student at the start of the Spring semester.
Accounts showing continued delinquency of six (6) months or more will be turned over to a collection agency or small claims court, without regard to the student's current status (enrolled, withdrawn, dismissed, or graduated). The family's payment history can be reported to the major credit bureaus in accordance with the Fair Credit Reporting Act ("FCRA") and NYS credit reporting laws. Notwithstanding the satisfaction of other required criteria for the tuition discount, such as minimum GPA and continued financial need, the School also reserves the right to rescind all Preston academic, service, or need-based discounts for the period the tuition account remains in delinquent status. Tuition discounts will be reinstated at the start of the semester following the delinquent status and only if all outstanding tuition and fees are paid before the start of the semester.
Ways to Finance a Preston Education
You can apply to finance from $5,000 up to 100% of your daughter's Preston tuition by visiting here. The LightStream PreK-12 Educational Loan (formerly with SunTrust) offers variable-term loans with no pre-payment penalty. Loans for applicants with poor credit (loosely regarded as scores below 610) are generally difficult to find. It may still be possible, however, to get approved for an education loan if you apply with a co-signer who has good credit. In fact, your chances of being approved with a strong co-signer increase 4x.
The application process is simple, can be completed quickly, and you can expect a decision in 24 hours or less.
Thank You for Choosing Preston
We realize that a rigorous private high school education is a major financial commitment on your part, and we appreciate the investment you've made in your daughter's future by choosing Preston. In return, we are committed to educating well-rounded young women who accept challenges to effect positive change in their world. Our commitment to you is a comprehensive college preparatory education and a variety of co-curricular opportunities at the core of your daughter's personal, spiritual, and physical growth.