Dr. Ilze King earned her MA and PhD in Religion and Education at Fordham University.
She has taught at Preston for the last 12 years, grades 10 to 12. She has taught New Testament, The World's Religions, Becoming a Woman of Mature Faith, and Psychology and Faith. She presently teaches the junior theology Christian Morality and Catholic Social Teachings course, as well as senior theology, The World's Religions.
Dr. King has a long and abiding interest in Catholic social teachings and social justice, as well as women's experience in the Catholic tradition. She strives to assist her students to become more aware of themselves connecting to their inner center and light. She encourages her students to explore and own the best that the Catholic tradition can offer and to expand in their perspective about ways they can share their inner light with their family, friends and wider community.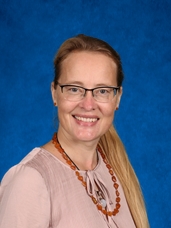 Ilze King
Teacher
Phone: x 657
Employed Since: 9/1/2005
15 Years Experience At School
Degrees
BA

Daugavpild Pedagogical University, Latvia

(1998)

MA

Fordham University

(1999)

Post-Graduate

Fordham University

(2010)