Mrs. Murphy, a former bank officer, came to Preston with 22 years of financial industry experience, where she wore many hats. She believed she was trading in all of those hats for the easy life working as an administrative assistant at Preston High School but she soon learned that while the types of hats may have changed, the challenges did not. Thank goodness she was accustomed to balancing, or should I say juggling, various tasks, because it made the transition from the financial world to the educational world seamless.
As the administrative assistant to the Principal and AP's for the past 14 years, Mrs. Murphy keeps her fingers on the pulse of the school and students.
Mrs. Murphy is also a proud mother of a Preston Alumna.
"No one is more cherished in this world than someone who lightens the burden of another. Thank you."
--Joseph Addison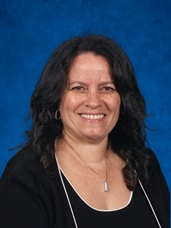 AnaMarie Murphy
Administrative Assistant
Phone: x 112
Employed Since: 9/1/2006
14 Years Experience At School