Preston High School
Tuition, Fees, & Incidental Expenses
School Policy
2018-19
Preston High School is a privately-owned and operated ministry of the Sisters of the Divine Compassion. Our mission is to provide a superior college preparatory education for each of our students. Over 75% of our funding is from tuition and fees and we therefore rely critically on the timely collection of tuition in order to maintain the facilities and pay our faculty and staff. We ask that you honor your contractual obligation to pay for the education of your daughter in accordance with the Tuition & Fees Policies as set forth below:
2018-19 Tuition Structure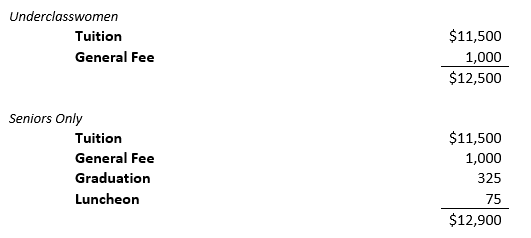 The General Fee includes classroom supplies & equipment, library acquisitions, administrative / testing / instructional materials, technology leasing, student handbook & planner, class / parent dues, retreats, and the annual Super Raffle. This does not include the cost of books, uniforms, and some course- (e.g., science labs, electives) and grade- (e.g., senior luncheon, prom) specific fees, which are additional.
The Senior Luncheon is a prelude to the Senior Prom and provided by the School at the Marina del Rey in December during School hours.
All fees are non-refundable. At time of withdrawal or dismissal from the School, any tuition refund due will be calculated as the excess number of months, or fraction thereof, paid prorated over the academic year (10 months). Conversely, any outstanding tuition and fees at withdrawal or dismissal will be calculated and due on or before the exit interview.
A separate Registration and Re-Registration Fee of $175 is due on or before the initial registration at the School and each January thereafter (except Senior year) that the student is enrolled at Preston.
Tuition Payments
As a condition of enrollment and good standing, each student's financially responsible party (the "Family") is required to have an active online tuition account with FACTS (Preston's tuition management provider), accessed through your ParentsWeb account. Since the School invoices tuition, fees, and most incidental expenses through FACTS, it is the responsibility of the Family to login and review the charges on a regular basis.
FACTS charges the School an annual administrative fee of $55 to create and manage your tuition account. Preston passes this fee directly onto the Family. For academic year 2018-19, this charge appears on your FACTS account as a School Payment Plan Fee and is due in full by July 3, 2018.
Tuition and fees are due on the 1st day of each month, with a 5-day courtesy period, after which a late fee of $45 will be charged on any outstanding balance of $45 or more. Each Family can request one (1) courtesy late fee waiver per academic year, if tuition and fees will be made current at the time of request. No additional waivers will be granted under any circumstances.
Please remit all payments through FACTS. Do not make any in-school payments.
Invoice Plans (Exception Only) and Invoice Plan Surcharge
Preston requires each Family to enroll a valid U.S. bank account or major debit / credit card for automatic tuition payments (Auto Pay). If you do not have, or cannot provide, either form of payment, then the School, at its sole discretion, may create an Invoice Plan for your tuition payments. This accommodation is by formal request and exception only. All FACTS Invoice Plans are assessed an annual fee of $60, due in full by June 1, 2018. The School will require an immediate conversion to Auto-Pay for your failure in making timely payments.
Payment Plan Options
For 2018-19, tuition payment plan options are:
1. Paid in Full
2. Semestral (semi-annual)
3. Quarterly
4. Monthly (most popular)
A 3% early payment discount ("EPD") will be applied to the tuition portion if the tuition & general fee is paid in full by June 1. A 1½% discount applies when the tuition & general fee for each semester is paid in full by June 1, and January 1, respectively. A 1% discount applies to quarterly plans paid by June 1, September 1, January 1, and March 1.
Tuition Discounts
To help our families meet the costs of a private education, we offer tuition discounts. Preston defines a tuition discount as any credit that reduces tuition from the amount as stated in Section I. For the 2018-19 academic year, tuition is $11,500. Tuition discounts awarded and funded by Preston fall into six (6) categories:
Academic Scholarships (merit-based). Academic scholarships are awarded to incoming freshmen based upon performance on the TACHS exam and middle school academic records. These are generally 4-year awards as long as a student maintains the minimum GPA and tuition / fees remain current. Academic scholarships cannot be combined with any other Preston-awarded tuition discounts, except the Sibling Discount.

Mother Mary Veronica ("MMV") Grant (Freshman year only). This grant is awarded to incoming freshman based upon service at their middle school. An application, including essay, must be submitted by the posted deadline, generally mid-February, before Registration Day. The MMV grant for 2018-19 is $2,500 and cannot be combined with any other Preston-awarded tuition discounts, except the Sibling Discount.

Financial Aid (need-based). We are very proud to continue our financial aid program to families of our students who demonstrate need. An application must be made every year for which you seek financial aid; the application can only be made directly from your FACTS tuition account by clicking on the "Apply for Grant & Aid" on your landing page. An application takes an average of two (2) hours total to complete properly.

For 2018-19, the application deadline for rising upperclasswomen is April 30, 2018 and there is a $40 fee, payable directly to FACTS. An application is not complete and will not be considered without the required 2017 tax documents (Federal and State returns and W-2 wage statements). If your tuition is in arrears as of April 30, your application will automatically be rejected.

For incoming freshwoman (class of 2022), the deadline is December 15, 2017.

There is no way to determine in advance if you will receive financial aid, as there are simply too many individual factors and extenuating circumstances taken into consideration. Final awards are always contingent upon the funds available and the number of families requesting aid. Any Financial Aid granted will be posted to your FACTS tuition account at the end of May 2018

Financial Aid cannot be combined with any other Preston-awarded tuition discounts, except the Sibling Discount.

Legacy Discount. Students whose mother or grandmother is a Preston graduate are eligible to receive a $1,500 discount. The Legacy Discount cannot be combined with any other Preston-awarded tuition discounts, except the Sibling and ADNY Employee Discounts.

Archdiocesan (ADNY) Employee Discount. Students whose parent or legal guardian is employed by the New York Archdiocese are eligible to receive a $1,500 discount. Proof of full-time employment in the ADNY must be submitted for the academic year. Proof is defined as an original letter on letterhead from the Principal, or the equivalent, and a copy of the most recent employee paystub. The ADNY Employee Discount cannot be combined with any other Preston-awarded tuition discounts, except the Sibling and Legacy Discounts.

Sibling Discount. Families with more than one daughter attending Preston during the same academic year are eligible to receive a $750 discount for each additional sibling. The discount will be applied to the tuition account of the eldest sibling and will remain in effect until the withdrawal or graduation of the eldest sibling.
Other external scholarships include, but are not limited to, Inner City Scholarship (e.g., BASF and HSA), Bronx Charter School for Excellence Award, Community Connections Scholarship, Student Sponsor Partners, Columbus Citizens Foundation, and the Tri-State Italian-American Scholarship.
Tuition discounts, both Preston-awarded and external third-party, cannot exceed the amount of tuition, $11,500 for 2018-19. In the event the combined tuition discounts exceed tuition, then Preston will reduce its award(s) accordingly. At a minimum, the Family is fully responsible for the general and other fees.
In most cases, Preston is required to report your total tuition assistance by type to third-party foundations, in accordance with the terms of their scholarship. The may result in the reduction of one or more of your awards so that the total assistance does not exceed the tuition portion of your total tuition and fees.
Delinquencies
Preston defines continued delinquency as two (2) months' tuition outstanding. For delinquent accounts, Preston reserves the right to suspend the student from curricular and extracurricular activities and withhold interim, quarterly, and final grade reports, diplomas, and final transcripts until all outstanding tuition and fees are paid.
Accounts showing continued delinquency will be turned over to a collection agency or small claims court. The Family's payment history will be reported to the major credit bureaus in accordance with the Fair Credit Reporting Act (FCRA) and NYS credit reporting laws. Notwithstanding the satisfaction of other required criteria for the tuition discount, such as minimum GPA and continued financial need, the School will rescind all Preston academic, service, or need-based tuition discounts for the remainder of the semester. Tuition discounts will be reinstated at the start of the following semester only if all outstanding tuition and fees are paid before the start of the semester.
Your Tuition Solution
Your Tuition Solution offers affordable fixed rate education loans to finance a private high school education. If you believe you qualify for at least a $2,000 education loan, we encourage you to visit https://secure.yourtuitionsolution.com/ and apply at your earliest convenience. The process is streamlined, frequently with a decision in 24 hours or less.
Thank you for Choosing Preston
We realize that a rigorous private high school education is a major financial commitment on your part and we appreciate the investment you've made in your daughter's future by choosing Preston. In return, we are committed to empowering our students to become well-rounded young women who accept challenges and effect positive change. Our promise to you is a superior academic experience and a variety of extracurricular opportunities at the core of your daughter's personal growth.

Mario Fava, CPA
Director of Finance