Posts Tagged "Lamp Ministries"
November 04, 2022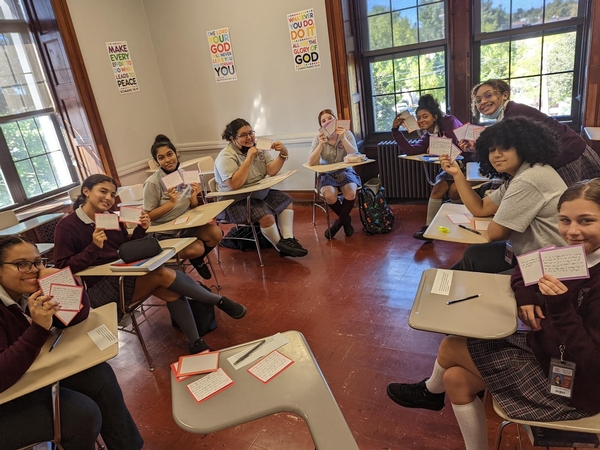 This year Preston's Sacramental Preparation program has 10 students! They will spend the whole year preparing for their Confirmation - which will take place at our school wide Easter liturgy in April. As with all Sacramental Prep programs, Preston's has a service requirement. The students in the class are starting off the year working on a group project - writing letters to people struggling with homelessness in the Bronx. Lamp Ministries ministers to such individuals. Last year at a guest lecture at a Compassion Connection meeting, a gentleman who now himself ministers for Lamp, spoke about how a letter from a stranger gave him that inspiration to turn his life around. Preston Sacramental Prep students hope to be this kind of inspiration to someone as well.

November 19, 2017
The Italian Club (moderated by Ms. DeMaio) delivered packages of cans to a local organization called LAMP ministry in Throggs Neck. The vocation of LAMP is to help everyone know God's love. LAMP ministry preaches at St. Thomas Aquinas Church and Corpus Christi, proclaiming the word of God and feeding the poor.
Although LAMP ministry delivers food to three different parts of the Bronx, Preston's packages will be delivered specifically to homeless families and pregnant mothers since these packages crafted with love. According to the organizers of LAMP, "the greatest poverty that the poor experience is the lack of spirituality." Here's to spreading God's love!
November 02, 2017
Unfortunately, many elderly individuals are manipulated, disregarded, and taken for granted. However, the Italian Club adopts senior citizens into the Preston community. The Italian Club prepared for the next Senior Citizen Night by crafting candy packages "made with love!" Megi Alikaj (Class of 2019) enjoys engaging with the senior citizens because "they are full of life and excitement especially when playing "tombola" (Bingo in Italian) in hopes of winning prizes." The Italian Club defies the misconception of age barriers as Preston students interact and bring happiness to the senior citizen community.
Some candy packages will also be set aside for a LAMP ministry. Embracing another marginalized group, the Italian Club writes letters to the homeless, hoping to inspire and uplift those who are struggling economically.
Recent Posts