Posts Tagged "Senior Citizens"
January 09, 2023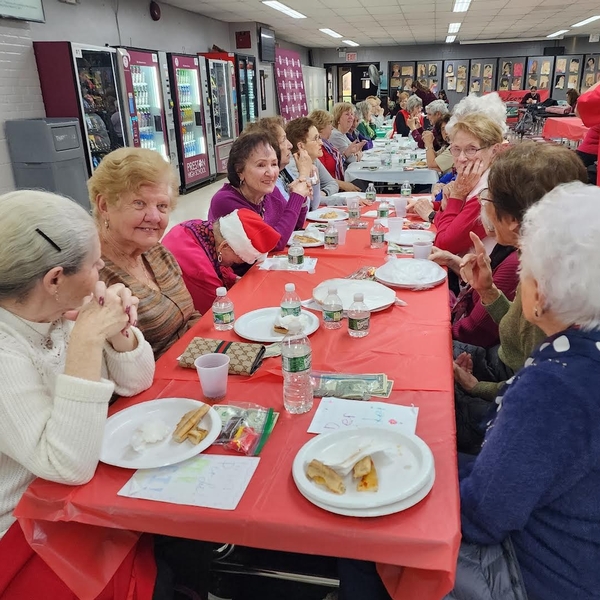 On December 8th, the Italian Club held a Christmas Party for the members of the Senior Run Program of the Preston Center of Compassion.
Getting into the Christmas spirit, all of our guests listened to Italian music, ate pizza and Italian pastries, and played Tombola for cash prizes!

November 09, 2017
The Italian Club and Honor Society celebrated Thanksgiving early with members of the senior citizen community. The guests were greeted with Italian cookies, pizza, refreshments, and a chance to win cash prizes playing tambola (bingo).
Students were thankful to share an evening with such incredible carriers of their culture, wisdom, and experience. The Senior citizens were amazed by all the charity the Italian Club and Honor Society does!
November 02, 2017
Unfortunately, many elderly individuals are manipulated, disregarded, and taken for granted. However, the Italian Club adopts senior citizens into the Preston community. The Italian Club prepared for the next Senior Citizen Night by crafting candy packages "made with love!" Megi Alikaj (Class of 2019) enjoys engaging with the senior citizens because "they are full of life and excitement especially when playing "tombola" (Bingo in Italian) in hopes of winning prizes." The Italian Club defies the misconception of age barriers as Preston students interact and bring happiness to the senior citizen community.
Some candy packages will also be set aside for a LAMP ministry. Embracing another marginalized group, the Italian Club writes letters to the homeless, hoping to inspire and uplift those who are struggling economically.
Recent Posts