Andrea Forlini has a Bachelor's degree in English with Adolescent Certification, and a Master's degree in Literacy grades 5-12, both from St. Thomas Aquinas College. Prior to coming to Preston, she worked across the Hudson River in Livingston Manor, Ellenville, and Newburgh.
She has taught English at all four grade levels at Preston, as well as the freshman courses Communications and Reading Strategies.
When not at Preston, Andrea still enjoys learning on her own through reading just about anything she can get her hands on, and indulging in superhero and fantasy movies whenever she can.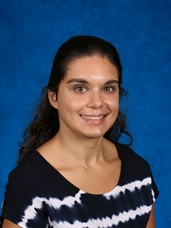 Andrea Forlini
Teacher
Phone: x 698
Employed Since: 9/1/2015
5 Years Experience At School
Degrees
BA

St. Thomas Aquinas College

(2011)

MS

St. Thomas Aquinas College

(2013)